Our very own Kendall Totten presented on the Ninesixty theme at March's Ann Arbor Drupal User Group meeting. We had a great turnout, and excellent questions from those who attended.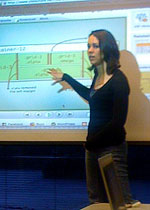 Additionally, it was the groups's 4th anniversary, so we enjoyed cupcakes along with the usual lively discussion. Thanks to all of the A2 Drupal members who continue to attend, and to the new faces who join us from time to time. And a special thanks to those of you who take the time to present, making our meetings a success. And also thanks to Spark for continuing to provide a convenient location (right across from Bar Louie!).
If you are interested in getting started with 960 for Drupal, be sure to check out Kendall's excellent primer on the theme: How to Tame the Ninesixty Theme.
The A2 Drupal User Group meets on the last Monday of the month—please join us next time when we'll be talking about...